12.09.2010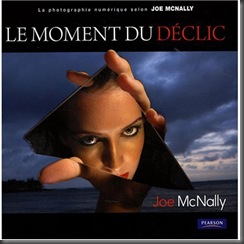 Joe McNally est un photographe américain connu dont les images ont illustré la plupart des grands magazines US et internationaux : Life, Time Magazine, Sports Illustrated, National Geographic et bien d'autres.
En plus d'être un photographe largement primé (World Press Photo, Pictures of the Year, …) et publié, McNally est aussi un conférencier, animateur de stages et ateliers photos dans le monde entier : des Usa à Kuala Lumpur en passant par l'Europe, Dubai, … C'est d'ailleurs durant l'un de ces stages qui l'idée du livre a germé dans l'esprit de Scott Kelby.
Le concept du livre Le Moment du déclic est on ne peu plus simple : 1 double page, 1 photo, des explications.
Simple, mais pas simpliste. Les images du livre sont chaque fois prétexte à des explications intéressantes qui permettent d'en apprendre plus sur la photographie, que ce soit la gestion de la lumière, du sujet, comment arriver à traiter avec une star, obtenir une photo intéressante, …
Ce livre est truffé de bons conseils et autres trucs et astuces intéressants. Il contient également une courte série de conseils pour l'éclairage (11 conseils sur 4 pages); court mais instructif. Suivent ensuite une section matériel et une partie d'anecdotes et autres petites histoires relatives à la carrière de Joe et a son métier de photographe.
Un seul petit regret, la traduction n'est pas toujours parfaite, si vous lisez couramment l'anglais n'hésitez pas à le prendre en anglais (The Moment It Clicks: Photography secrets from one of the world's top shooters).
Si vous voulez le feuilleter en ligne avant l'achat c'est possible sur Google Books : le moment du Déclic